Earn a Facility Management Certificate
ProFM delivers the most comprehensive FM training available to elevate your FM career.
From asset management, to risk management, operations & maintenance and business management, ProFM gives you the knowledge and tools you need.
Do You Have the Skills and Knowledge Required to Meet the Changing Demands of Facility Management?
We Know FM Career Demands are Shifting & the Required Skills are Difficult to Acquire.
ProFM believes that gaining FM knowledge and skills can't be left to chance or on-the-job experience. That's why we developed the most comprehensive FM training in the industry.
The 24 Things
FMs Should Know
Acquire the most current and comprehensive knowledge across key FM specialties.
FM roles have expanded beyond traditional duties and ProFM teaches the skills you need.
ProFM provides the critical knowledge and skills that differentiate you from other FM professionals.
Employee
Growth & Retention
Reward FM employees with a growth program that provides critical skills and third-party verification.
What are Your Unique FM Learning Priorities?
Take the first step in bringing more value to your organization and advancing your career with this free self-assessment.
Why FM Professionals Choose the ProFM Credential.
Most Comprehensive & Up-to-Date Program on the Market
Developed by Globally Recognized FM Experts
Cost Effective, All-in-One Training & Credential
50+ Years in Training & Development
What ProFMs Are Saying
"The knowledge I gained from the ProFM program gives me the confidence to know I can provide the best facility management experience for all involved and keeps me up to speed with FM."
Lisa Trayter, ProFM
Director of Facilities and Transportation
School District
"FMs can only dedicate a limited amount of time and funding to training and credentials. ProFM covers all the subject matter of up to 10 other FM credentials combined. A level or analytics that no other provider could give us."
John Hajduk, ProFM
Executive Director, Facilities Operations
Sodexo
"ProFM is great whether you are just getting into Facilities Management or a seasoned veteran. The information is relevant for today's industry and easy to understand and apply in the field."
Johnathon Caradonna, ProFM
Senior Project Manager
Paradigm of Idaho, Inc.
3 Key Steps for Advancing Your Career
With ProFM, you get the most up-to-date and comprehensive FM credential on the market developed by globally recognized professionals, preparing you to advance your career and bring more value to your organization.
Stop Hoping for a Better Career, Start Building it.
Facility personnel at every level are faced with new demands and challenges due to industry changes in compliance, security, technology, and strategic planning. Additionally, there is a growing shortage of FMs who possess the technical, business, and communication skills, as well as industry knowledge that would enable upward career mobility. ProFM understands the increasing skills and knowledge gaps that place stress on facility management professionals and their organizations...
We know how FM demands are shifting and that the required skills are difficult to find or provide through on-the-job training alone.At ProFM, we believe that growing FM knowledge and skills can't be left to chance nor to on-the-job experience and that by investing in FM credentials, facility personnel and their leaders grow their competitive advantage and professional reputation. That's why we've made it our mission to elevate the FM career by creating the most comprehensive, universal, and up-to-date FM credential program in the industry.
With more than 50 years in training and development, and a board of globally recognized Facility Management experts, ProFM offers the highest-value training solution to FM professionals everywhere. Additionally, we are the only solution on the market that delivers comprehensive training in the 19 FM-specific knowledge areas and 5 cross-functional business competencies. With four learning options to choose from and global partners available for in-person, online or hybrid training, the ProFM Credential program can be customized to fit your unique learning style.
With ProFM, FM professionals grow confidence from acquiring the comprehensive knowledge and skills that elevate their FM career and bring unmatched value to their organizations. And in turn, organizations have an elevated strategy for recruiting, retaining, and upskilling their valuable FMs.
Stop waiting and start advancing your career today with the globally recognized, ProFM credential.
In Today's FM Market, Training Creates a Competitive Advantage for Employers.
Facility leaders who face the challenge of finding and retaining top FM talent are turning to ProFM's training program to grow and promote early and mid-career professionals. Discover solutions for team training, retention, and attracting top talent with the ProFM credential.
Building and retaining the FM workforce is a mission of many companies. How can they achieve results?
by Eileen McMorrow, Founder The McMorrow Reports
Facilities managers (FMs) were key to keeping traditional workspaces as support mechanisms while people were working or learning from home. In many cases without adequate FM training to perform all the functions that cropped up. Is it any wonder that facilities managers joined the ranks of healthcare professionals as among the most exhausted?
6 key priorities not to overlook in your 2022 facility management planning
by Mark A. Bodenschatz, PE, ProFM, CSSP, Director, Penn State Facilities Engineering Institute
Facility Managers (FMs) face no shortage of challenges in 2022. The pandemic and its resulting fallout still loom large in the FM world, as with many other industries. Add to the list, tough competition in many industries, supply chain issues, growing labor shortages, and cyber and ransom attacks.
Facility Management Credentials: What You Need To Know
by Stormy Friday, President at The Friday Group
Choosing the right credential for your particular situation is more art than science. Here is some advice.
Related Content
Looking for even more? We think you'll enjoy these other free resources:
Read the 2022 FM Training Outlook Survey Full Report
See trends in FM workforce retention, the value of training, addressing the skills gap and the importance of credentials.
See the ProFM Body of Knowledge in Action.
See practical examples of the ProFM Body of Knowledge in action through a series of short videos hosted by FM experts.
Make ProFM Your Competitive Advantage
Learn how Extra Space Storage was able to make an impact on internal staff capabilities, confidence and credibility with ProFM.
Frequently Asked Questions (FAQs)
Below you will find answers to the questions we get asked most.
Q: Who is ProFMI?
A: Formed in April of 2017, ProFMI is a partnership between National Facilities Management & Technology (NFMT), Milwaukee, WI, provider of live and online facilities management education and Holmes Corporation, an instructional design, marketing and distribution firm delivering premium-quality learning systems to professionals around the world.
Led by a commission of voluntary leaders speaking for the market and representing the diversity of the FM profession, ProFMI is committed to elevating the facility management industry and serving its professionals around the world. It assembles the top thought leaders in the industry to define the required knowledge and competencies of all facility managers, validate these findings with ongoing market research, create and deliver superior education, and evaluate professionals against these standards.
Q: How is this credential different than existing FM credentials?
A: ProFM is the most significant project in years focused on supporting the FM profession, and the success and upward career mobility of facility professionals. Today's facility professionals need to be equipped with broad spectrum FM knowledge and strategic business skills. There is no other credential that currently meets that need. ProFM is:
Comprehensive: The ProFM Body of Knowledge includes 19 functional areas and five cross-functional competencies that have never before been combined together into one complete program.
Applicable: ProFM focuses not only on enhancing your knowledge, but also building practical application skills.
Global: ProFM's Body of Knowledge reflects the globalization of the FM industry from the incorporation of global FM ISO standards, the perspective of international ProFMI Commission members, and input from facility professionals in 93 countries.
Relevant/Current: The ProFM Body of Knowledge, developed in 2017, is the most current and relevant standard for facility professionals. It goes beyond the traditional definition of FM to reflect the knowledge and skills required of today's facility professionals.
Independent: ProFM was built by the ProFMI Commission, an independent and voluntary group of respected Facility Management industry leaders, experts, and practitioners who have come together with the common goal of elevating and uniting the FM profession.
Q: How is the ProFM credential different from the Certified Facility Manager (CFM)?
A: We know and respect the value of the CFM certification, which is why the ProFM is not positioned to compete with it. Rather, it has been established to elevate the FM industry as a whole. Furthermore, the ProFM and CFM credentials are different in very significant ways:
The ProFM credential is a knowledge-based designation, focused on building knowledge and skills. IFMA's CFM is an experience-based certification, designed to validate knowledge and experience by passing the proctored CFM exam.
ProFM is created as a universal credential, not only in its global reach and content, but also in its applicability to FMs at any point in their career.
The ProFM Body of Knowledge, created in 2017 with input from over 3,300 professionals in 93 countries, covers 19 FM knowledge areas and 5 cross-functional competencies. The CFM exam is based on IFMA's 11 core competencies.
The ProFM Institute conducted extensive research as we explored the potential for this credential, and found that of the 3.2 million FM professionals in the United States, less than two percent hold an FM credential. That tells us the market is currently under-served, both here and around the world. We want to help change that.
The FM industry includes many practitioners who are unaffiliated with a specific association, but still want to enhance their capabilities. We're confident that the ProFM designation is that tool, allowing facility professionals to advance their careers and the important industry they serve.
Q: How is the ProFM credential different from the Facility Management Professional (FMP) credential?
A: ProFM has a number of significant differences from IFMA's Facility Management Professional (FMP) credential.
The FMP teaches four of IFMA's eleven FM topic areas. ProFM teaches all 24 knowledge areas and cross-functional competencies required of FM professionals included in the ProFM Body of Knowledge.
ProFM is designed to fill the knowledge gaps of FM professionals at all career stages, providing exposure to the full spectrum of FM topics and business strategies that you may not have been exposed to through your work experience.
The ProFM Body of Knowledge was created in 2017 and reflects the most current requirements of FM professionals. The ProFM will be reviewed on an annual basis to ensure it covers emerging trends and best practices.
ProFM has a 3-year term of validity. The credential maintenance requirements  are designed to keep your knowledge and skills up-to-date through practical and convenient professional development activities.
Q: Are employers embracing the ProFM credential? How can employers benefit from ProFM?
A: Yes, ProFM was developed to meet the needs of FM professionals and employers. A number of well-known and well-respected FM employers from around the world contributed to the development of ProFM. In fact, our ProFM research study gathered input from professionals representing over 1,800 unique employers.
There are a number of reasons why employers have already committed their support to ProFM:
ProFM sets a global standard for the profession: By creating a globally accepted standard for today's evolved profession, employers can confidently evaluate their staff against these standards and provide training to fill knowledge and skill gaps with ProFM.
ProFM offers employers a way to evaluate and train staff: ProFM offers broad FM training and business strategies while providing an independent verification of the knowledge and skills required of today's facility professionals.
ProFM builds a broad spectrum of FM and business skills to fill retirement gaps: With the most senior facility professionals preparing to retire, there is a critical need for new and mid-career professionals to expand their skill set and prepare for leadership.
ProFM offers an independent market view of FM: ProFM was developed by facility professionals, for facility professionals. Respected FM thought leaders, employers, and working professionals came together to identify the knowledge and skills required of today's facility professionals. We are committed to the advancement of the FM profession and its professionals.
ProFM will continue to represent evolving corporate needs: ProFM is developing a corporate advisory board to ensure the credential and training remain relevant and current to industry needs.
Q: Who is the program designed for?
A: ProFM was designed to be the one credential for all facility professionals, applicable across industries, job titles, and geographies. ProFM is beneficial at all career levels:
Early Career FM-Related Roles: ProFM provides early-career facility professionals with new FM skills and knowledge and a way to gain recognition with employers, clients, and coworkers.
Mid-Career FM-Related Roles: ProFM helps mid-career facility professionals identify and fill their knowledge and skill gaps, prove that they have the skills desired by employers, and show their commitment to leadership.
Senior FM Professionals: ProFM helps senior facility professionals update and validate their knowledge and skills while also serving as a helpful tool for identifying knowledge gaps in themselves and their staff.
Q: How do you earn the ProFM credential?
A: We've made it simple for all facility professionals to earn the knowledge and skills they need to advance their careers.
No Prerequisites: There are no mandatory pre-requisites, however it is beneficial for candidates to have a basic knowledge of facility management, a related FM credential, and/or work experience in an FM functional area such as Operations & Maintenance, Asset Management, Risk Management, or Business Management.
Steps to Earn ProFM: Everything you need to grow your FM knowledge and earn the ProFM credential is included in the ProFM Credential Program.

ASSESS your current FM knowledge and identify gaps with an online pre-test.
BUILD your FM knowledge by reading printed or online study materials.
CHECK your knowledge retention and understanding using online quizzes and flashcards.
EARN your ProFM credential by passing the two-part online final assessment with a score of 70% or higher.
RENEW your credential every three years and stay on the cutting edge of the FM industry.

Flexible Study Options: Choose one of four learning options to best match your personal preferences for scheduling, budget, instructor support and location.
Q: What does the ProFM Credential Program include?
A: The ProFM Credential Program includes everything you need to build your knowledge and earn the ProFM credential with no additional application or assessment fees. Regardless of the study option you choose, self-study, instructor-led courses, or group training, everyone will receive:
Reading materials, available online via an embedded e-reader, teach the entire ProFM Body of Knowledge. Printed versions of the reading materials are also available.
Online study tools help you identify your knowledge gaps, build a study plan, and apply the topics you've learned through quizzes, flashcards, and more!
Online final assessment, available on-demand, determines if your knowledge meets the ProFM standard. This is a two-part assessment. Both parts must be completed with a score of 70% or higher to earn the ProFM credential. The exams may be repeated at no additional charge.

Part 1: Knowledge Exam – Designed to measure your breadth of knowledge in the FM profession, based on the 19 functional knowledge areas and five (5) cross-functional competencies of the ProFM Body of Knowledge.

75 multiple-choice questions
90 minute time limit

Part 2: Application Exam – Designed to test your ability to apply your skills to real-world scenarios that you may encounter in your work. Questions focus on reviewing and critically analyzing different situations to best apply the ProFM knowledge and competencies.

50 multiple-choice questions
90 minute time limit
Q: How long will it take to earn the ProFM credential?
A: The length of time it takes to earn the credential will depend on your chosen study method, your level of experience, how quickly you read, and other factors. However, we estimate that most candidates can complete the online training and assessments within 55-60 total hours.
Q: What is the cost of earning the ProFM credential?
A:
The cost of the ProFM
Self-Study
Credential Program, including online reading materials, online study tools, and online final assessment, is US$1695 (plus applicable taxes). ProFM's 
Coached Self-Study
program, which gives you the flexibility to study on your own time while providing the structured support and accountability of seven 1-hour online sessions led by a ProFM-credentialed expert instructor, is US$1795 (plus applicable taxes). Candidates may choose to add a printed version of the reading materials for US$50 (plus shipping and applicable taxes). There are no additional application, administration, or exam fees.
Get Started Today! Order Your Self-Study or Coached Self-Study Program Below:
SELF-STUDY
ONLINE ONLY
$1,695
$282.50/month for 6 months*
12 month product access
Online study tools
Online final assessment
Printed reading materials
7 Coaching sessions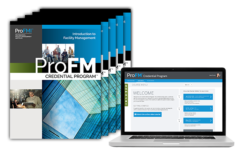 SELF-STUDY
ONLINE + PRINT
$1,745
$290.83/month for 6 months*
12 month product access
Online study tools
Online final assessment
Printed reading materials
7 Coaching sessions
COACHED SELF-STUDY
ONLINE ONLY
$1,795
$299.17/month for 6 months*
12 month product access
Online study tools
Online final assessment
Printed reading materials
7 Coaching sessions
COACHED SELF-STUDY
ONLINE + PRINT
$1,845
$307.50/month for 6 months*
12 month product access
Online study tools
Online final assessment
Printed reading materials
7 Coaching sessions
Q: Once the credential is earned do I need to do anything to maintain it?
A: To ensure that your knowledge is kept relevant and up-to-date, you will be required to renew your ProFM credential every three years.
You must earn a minimum of 45 contact hours of continuing education related to the FM
profession or "renewal credits" for each renewal cycle.
Renewal credits will be awarded for FM professional development related to the individual,
the organization, and/or the profession.
A small renewal fee of US$99 will be applicable every 3 years. This renewal fee is currently being waived, so you can renew for $0.
A predetermined percentage of credential holders will be audited annually.
Visit www.ProFMi.org/renewal for complete details.
Q: How does my ProFM credential get displayed as a badge?
A: ProFM has partnered with BadgeCert to give you an easy and secure way to share your ProFM credential achievement and maintenance.
Post your digital badge anywhere – it may be shared as part of your profile on social media sites, embedded in your email signature, or posted on your website. Once shared, your digital badge validates your achievement for employers, peers, clients, and customers.
Visit www.ProFMi.org/digital-badge for complete details.